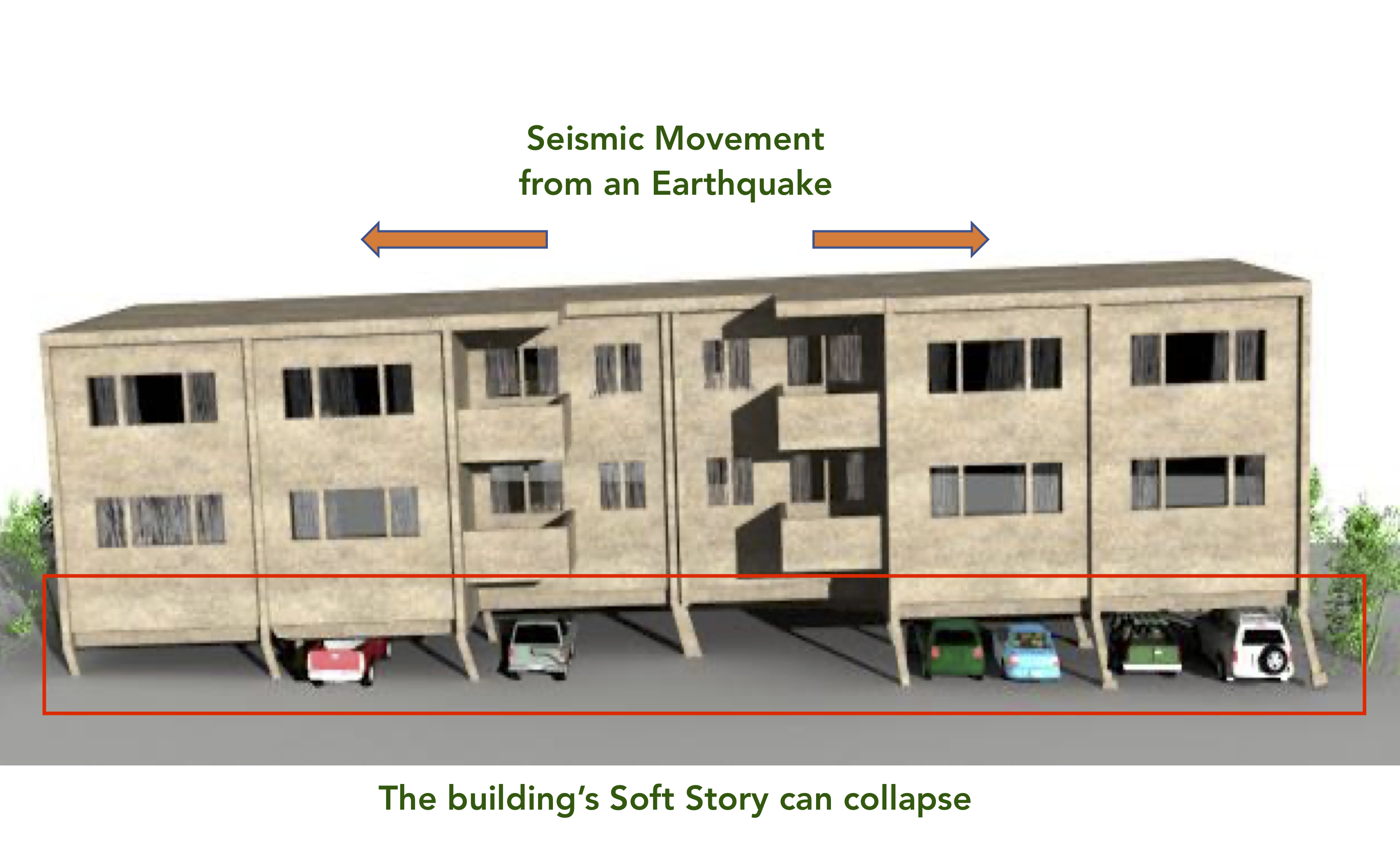 What is Seismic Retrofitting?
Mandatory  Seismic Retrofit ordinances are considered laws requiring property owners to have their buildings evaluated for seismic vulnerability.
If the building is found to be especially seismically susceptible to city standards, it will be mandated to undergo retrofit construction to meet the ordinance building codes within the city's allotted time frame.
So what is a "Soft Story" building?
Soft story buildings are typically multi-story structures that have one or more floors with large opening windows, wide doors, large unobstructed commercial spaces, or other openings in places where walls would normally be required for stability as a matter of earthquake engineering design.   Many such soft story buildings have a soft first story that is less rigid than the floors above it, for example, an apartment with an open carport parking structure many times falls under this category.
What Sets Xebec Construction's Seismic Retrofit Apart?
Our Technique
Our Retrofitting approach used during design and construction do not compromise the existing structure of your property:
Our designs for your Soft Story Project are individually designed to suit YOUR building's needs rather than the widely-used "templates" which inevitably incorporate unnecessary changes and additional costs. We also assist clients with redesigning existing plans to reduce costs and simplify construction, in order to increase the predictability pertaining to the scope of work and safety of tenants during construction completion.
Everything is Completed In House
The entire process of retrofitting your building from the preliminary designs, to the final product, is all done in house, making it easier and less costly for our clients. We do not hire outside subcontractors, giving us the advantage of finishing our work with the highest level of quality and efficiency.
We evaluate your property to see how many sides qualify as a soft story or need retrofitting.
Then we create the most cost effective and minimally invasive design that will bring your building up to complete compliance code.
Our designs are meant to strengthen your building, we do not make any extra unnecessary designs or unneeded intrusive changes, meaning you save money and keep yourself and/or your tenants safe throughout our quick construction process.
Our Bids Are The Best In The Business
We calculate everything you need within the scope of work we have designed to complete your project. Including the following at no additional cost or change orders:
All designs
If necessary by the city, redesigns (we have never incurred a redesign in our 70+ completed projects)
All Permit & Plan Check fees, Building Department fees, & Deputy Inspector fees
All Testing fees, including asbestos, lead, welding, and concrete break testing.
All Engineering report fees.
All Tenant Habitability Program paperwork and associated costs.
All materials, including steel.
All construction costs.
All final finishes, where we match the stucco and paint to your existing building.
Our contracts do not have exclusions based on our designs if there needs to be an adjustment or change, we do not charge you! Please reach out to us for a complimentary quote on your building or your existing plans, today!
Tenant Habitability Plan (THP)
The THP documents that are mandatory during Retrofit construction are a letter notifying and describing the impending building construction plans to each tenant. It describes the scope of the work and the planned methods Xebec Construction will use to mitigate any potential impact to the tenants and their personal property during the renovation work, as well as any other information that LABDS deems necessary. We notify all of your tenants in a timely method and assist with any issues, if they arise. Construction grounds are left tidy at the end of each day and tenants are always respected and obliged, to ensure a positive interaction and minimal inconvenience for both them and property owners during the construction process.
All of our inspection records are available online through the LADBS website, along with all ongoing construction projects here.